Posted by Beth Warnecke on Sep 12, 2016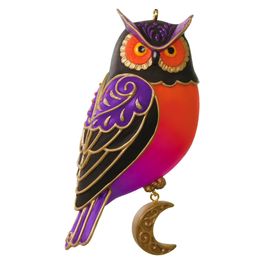 Hallmark made some fabulous additions to their Halloween line this year. The ever popular Charlie Brown and Snoopy appear in "Trick or Treat?" The ornament is musical and Snoopy moves as you pull on Woodstock. The "Sweet Trick-or-Treater" is designed by a favorite artist Mary Hamilton and complements the Mary's Angel series. "Dia de Los Muertos" is the third ornament Hallmark has done with the skeleton theme.
The stand out of the Hallmark ornaments this year is "Happy Owl-oween". The owl is done in vibrant fall colors and was designed by Edythe Kegrize who also does the Beauty of Birds series. Be sure to get this one early as it is sure to be a sell out with all the owl collectors out there. Rounding out the collection is the 4th in the Happy Halloween series featuring a vampire inside a Jack-o-Lantern.
If you missed some of the past Halloween ornaments, they have Oogie Boogie from Nightmare Before Christmas as well as the usual collection of pumpkins, bats, skeletons, and ghosts. See the Halloween ornaments here.