Posted by Beth Warnecke on Nov 19, 2017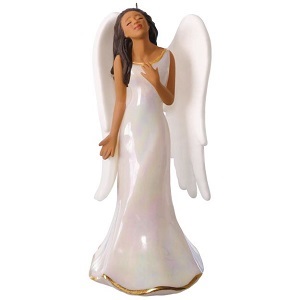 Putting up the family Christmas tree is a tradition for many families that starts on Thanksgiving weekend. People pull down boxes of ornaments and tinsel which have been stored since last year in the attic and everyone takes part. Little children decorate the lower branches or sometimes get the special honor of being lifted to the top of the tree to put a shiny star on the top branch. Usually some bickering is involved because the light strings are tangled or have a missing bulb so they will not light up. Sound familiar?
I've heard stories of people putting up multiple trees, but we have never had time for that at our house. When I was growing up, more of the time was put into making special Christmas candy like wrapped homemade caramels, toffee, fudge, hard cinnamon candy, divinity, etc.
Many people have a themed tree and Hallmark Christmas ornaments surely play a role in some of those. I have seen pictures of trees done in a Star Wars motif complete with a Darth Vader Helmet for a tree topper. A lime green Christmas tree was devoted to ornaments from the story of The Grinch Who Stole Christmas. Others have an elegant tree with a color theme of turquoise and silver, or red and gold, or probably any combination you can imagine.
Ornaments are extremely varied from hand blown glass (that you need to keep the cat away from) to carefully kept popsicle stick ornaments your children made for you at school in their early years. A friend of mine from college got married at Christmas and we were all given a lovely crystal ornament at her bridal shower that I still use today and remember her every year when I put in on the tree.
If you are looking for an idea for your tree this year, check out some of the series ornaments from Hallmark. There are sports themes, ornaments for the car or truck collector, African-American ornaments, angels, and Eskimos to choose from. Whatever your choice, enjoy these days with your family as we approach the wonder of Christmas.